Comments
Comments are supported in HTTP Requests.
http
# comment type 1




// comment type 2





/*




  multi line comment




*/



WARNING
Comments used within the request body must start from the beginning of the line (only whitespace before comment start).
TIP
The first comment is automatically used as description for this request.
httpBook uses comments to inject markdown documentation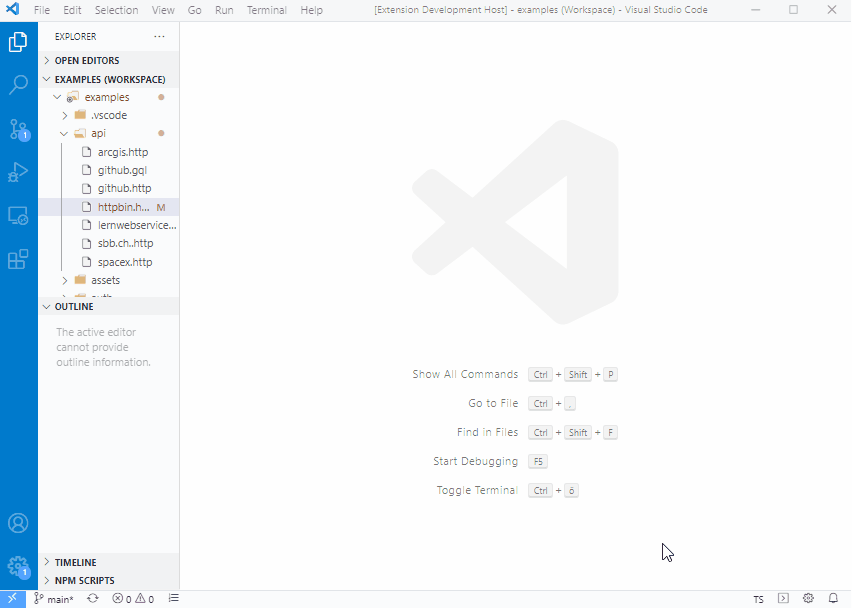 http



/*




# httpbin.org (0.9.2)





> [ Base URL: httpbin.org/ ]





A simple HTTP Request & Response Service





**Run locally:** `$ docker run -p 80:80 kennethreitz/httpbin`





[

the developer - Website

]

(https:

//kennethreitz.org/)




[

Send email to the developer

]

(me@kennethreitz.org)




*/






/*




## Http Methods





Testing different HTTP verbs




*/






/*




## Status Codes





Generates responses with given status code




*/





DELETE https:

//httpbin.org/delete





HTTP/

1.1

 

200

 - OK




date: Mon, 

21

 Jun 

2021

 

19

:

38

:

00

 GMT




content-type: application/json




content-length: 

361




connection: close




server: gunicorn/

19.9

.

0




access-control-allow-origin: *




access-control-allow-credentials: 

true





{




  

"

args

"

:

 

{},




  

"

data

"

:

 

""

,




  

"

files

"

:

 

{},




  

"

form

"

:

 

{},




  

"

headers

"

:

 

{




    

"

Accept

"

:

 

"

*/*

"

,




    

"

Accept-Encoding

"

:

 

"

gzip, deflate, br

"

,




    

"

Host

"

:

 

"

httpbin.org

"

,




    

"

User-Agent

"

:

 

"

httpyac

"

,




    

"

X-Amzn-Trace-Id

"

:

 

"

Root=1-60d0ea98-6446cd5e7dfa0a805da95cad

"




  

},




  

"

json

"

:

 

null,




  

"

origin

"

:

 

"

79.243.57.74

"

,




  

"

url

"

:

 

"

https://httpbin.org/delete

"




}





###





GET

 https://httpbin.org/get





HTTP/1.1 200 - OK




date

:

 

Mon, 21 Jun 2021 19:38:05 GMT




content-type

:

 

application/json




content-length

:

 

295




connection

:

 

close




server

:

 

gunicorn/19.9.0




access-control-allow-origin

:

 

*




access-control-allow-credentials

:

 

true





{




  

"

args

"

:

 

{},




  

"

headers

"

:

 

{




    

"

Accept

"

:

 

"

*/*

"

,




    

"

Accept-Encoding

"

:

 

"

gzip, deflate, br

"

,




    

"

Host

"

:

 

"

httpbin.org

"

,




    

"

User-Agent

"

:

 

"

httpyac

"

,




    

"

X-Amzn-Trace-Id

"

:

 

"

Root=1-60d0ea9d-3dfb873f497a9e6d50b2eccc

"




  

},




  

"

origin

"

:

 

"

79.243.57.74

"

,




  

"

url

"

:

 

"

https://httpbin.org/get

"




}





###





PATCH

 https://httpbin.org/patch





HTTP/1.1 200 - OK




date

:

 

Mon, 21 Jun 2021 19:38:07 GMT




content-type

:

 

application/json




content-length

:

 

388




connection

:

 

close




server

:

 

gunicorn/19.9.0




access-control-allow-origin

:

 

*




access-control-allow-credentials

:

 

true





{




  

"

args

"

:

 

{},




  

"

data

"

:

 

""

,




  

"

files

"

:

 

{},




  

"

form

"

:

 

{},




  

"

headers

"

:

 

{




    

"

Accept

"

:

 

"

*/*

"

,




    

"

Accept-Encoding

"

:

 

"

gzip, deflate, br

"

,




    

"

Content-Length

"

:

 

"

0

"

,




    

"

Host

"

:

 

"

httpbin.org

"

,




    

"

User-Agent

"

:

 

"

httpyac

"

,




    

"

X-Amzn-Trace-Id

"

:

 

"

Root=1-60d0ea9f-7e49d0a404e13ce7386fb746

"




  

},




  

"

json

"

:

 

null,




  

"

origin

"

:

 

"

79.243.57.74

"

,




  

"

url

"

:

 

"

https://httpbin.org/patch

"




}





###





POST

 https://httpbin.org/post





HTTP/1.1 200 - OK




date

:

 

Mon, 21 Jun 2021 19:38:10 GMT




content-type

:

 

application/json




content-length

:

 

387




connection

:

 

close




server

:

 

gunicorn/19.9.0




access-control-allow-origin

:

 

*




access-control-allow-credentials

:

 

true





{




  

"

args

"

:

 

{},




  

"

data

"

:

 

""

,




  

"

files

"

:

 

{},




  

"

form

"

:

 

{},




  

"

headers

"

:

 

{




    

"

Accept

"

:

 

"

*/*

"

,




    

"

Accept-Encoding

"

:

 

"

gzip, deflate, br

"

,




    

"

Content-Length

"

:

 

"

0

"

,




    

"

Host

"

:

 

"

httpbin.org

"

,




    

"

User-Agent

"

:

 

"

httpyac

"

,




    

"

X-Amzn-Trace-Id

"

:

 

"

Root=1-60d0eaa2-3379384b530308d96e9ade95

"




  

},




  

"

json

"

:

 

null,




  

"

origin

"

:

 

"

79.243.57.74

"

,




  

"

url

"

:

 

"

https://httpbin.org/post

"




}





###





PUT

 https://httpbin.org/put





HTTP/1.1 200 - OK




date

:

 

Mon, 21 Jun 2021 19:38:12 GMT




content-type

:

 

application/json




content-length

:

 

386




connection

:

 

close




server

:

 

gunicorn/19.9.0




access-control-allow-origin

:

 

*




access-control-allow-credentials

:

 

true





{




  

"

args

"

:

 

{},




  

"

data

"

:

 

""

,




  

"

files

"

:

 

{},




  

"

form

"

:

 

{},




  

"

headers

"

:

 

{




    

"

Accept

"

:

 

"

*/*

"

,




    

"

Accept-Encoding

"

:

 

"

gzip, deflate, br

"

,




    

"

Content-Length

"

:

 

"

0

"

,




    

"

Host

"

:

 

"

httpbin.org

"

,




    

"

User-Agent

"

:

 

"

httpyac

"

,




    

"

X-Amzn-Trace-Id

"

:

 

"

Root=1-60d0eaa4-1a5b7a7507929e2d412e650a

"




  

},




  

"

json

"

:

 

null,




  

"

origin

"

:

 

"

79.243.57.74

"

,




  

"

url

"

:

 

"

https://httpbin.org/put

"




}





###





DELETE

 https://httpbin.org/status/200





HTTP/1.1 200 - OK




date

:

 

Mon, 21 Jun 2021 19:38:15 GMT




content-type

:

 

text/html; charset=utf-8




content-length

:

 

0




connection

:

 

close




server

:

 

gunicorn/19.9.0




access-control-allow-origin

:

 

*




access-control-allow-credentials

:

 

true





###





GET

 https://httpbin.org/status/200





HTTP/1.1 200 - OK




date

:

 

Mon, 21 Jun 2021 19:38:18 GMT




content-type

:

 

text/html; charset=utf-8




content-length

:

 

0




connection

:

 

close




server

:

 

gunicorn/19.9.0




access-control-allow-origin

:

 

*




access-control-allow-credentials

:

 

true





###





PATCH

 https://httpbin.org/status/200





HTTP/1.1 200 - OK




date

:

 

Mon, 21 Jun 2021 19:38:24 GMT




content-type

:

 

text/html; charset=utf-8




content-length

:

 

0




connection

:

 

close




server

:

 

gunicorn/19.9.0




access-control-allow-origin

:

 

*




access-control-allow-credentials

:

 

true





###





POST

 https://httpbin.org/status/200





HTTP/1.1 200 - OK




date

:

 

Mon, 21 Jun 2021 19:38:22 GMT




content-type

:

 

text/html; charset=utf-8




content-length

:

 

0




connection

:

 

close




server

:

 

gunicorn/19.9.0




access-control-allow-origin

:

 

*




access-control-allow-credentials

:

 

true





###





PUT

 https://httpbin.org/status/200





HTTP/1.1 200 - OK




date

:

 

Mon, 21 Jun 2021 19:38:30 GMT




content-type

:

 

text/html; charset=utf-8




content-length

:

 

0




connection

:

 

close




server

:

 

gunicorn/19.9.0




access-control-allow-origin

:

 

*




access-control-allow-credentials

:

 

true